0

Comments
Published by Brian on Tuesday, May 23, 2006 at 10:03 AM.

Finally I'm back from Brunei....will be doing some mass uploading of photos to my Flickr account and a fair bit of postings.
Tuesday, May 09, 2006
SQ 8992 Singapore - Bandar Sri Begawan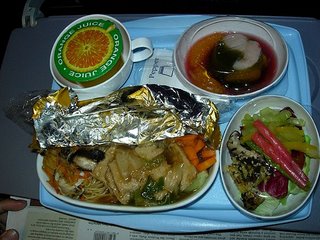 It's bloody 0245 and with just around 2 hours of flight time, I'm pretty amazed at the speed the crews' already serving food down the asile. Breakfast or Supper, I'm not too sure what to make of this meal served in plastic trays. Damn...after 9-11, gone are the days when one can actually use proper cutleries instead of those flimsy plastic ones. Anyway Wee Li had chicken, me Fried Fish and Rice and WenXiang being a vegetarian had a mixture of some stir-fried vegetables with mock meat. Damnit! the vegetarian meal looks to be alot tastier but mine wasn't that bad. The fish was pretty soggy and those blanched vegetables all tasted the same like the fish (the sauce).
Somehow, I always have a thing for airline food....they always are pretty tasty to me. For dessert, some fruit cocktail you can probably find off the shelves of your nearest supermarket and the cream roll was a tad too dry with little cream. Still I finished everything and hey it's a military chartered flight, they can't be serving Dom Perignon and Servuga Caviar. I have to say it was a pretty good meal at an extremely odd timing, I was expecting sandwiches or no food at all.
0

Comments
Published by Brian on Sunday, May 07, 2006 at 5:02 PM.

Will be flying off to Brunei tonight with a cough and slight flu. Damn... there ain't no internet at the military base where I'm heading so I'll try my best to update....if not then it's a long wait till 23rd.
0

Comments
Published by Brian on Saturday, May 06, 2006 at 6:07 PM.

A blog belonging to a 20 odd year old skinny hotelier turned soldier with a big appetite. More coming up....